Montessori materials are some of the most beautiful and use materials in our home. We have lots of great handmade materials along with traditional materials. Where to store all these awesome materials has been a challenge of mine since we started using the Montessori Method in our home years ago. I want to share some of my favorite techniques to organize Montessori materials and my favorite Montessori stores to buy materials.
I have always been pretty organized and often help others get organized. After living in houses all over the US as a military family I have had to be very creative with my organization. I would be only half lying if I told you we bought our current house because of the amazing closet that is in the room we call our classroom. With a couple modifications, this is my work space to help prep lessons, create materials, and store books, games, puzzles, you name it!
Here are the top 7 tricks of the trade I have found help me:
1. Labels
I found photo boxes from a craft store on sale for 75% off at one point during our moves. I LOVE them! They stack great and have a place to add labels to the outside. Labels help me know what I put in a box without having to dig through every box to find a specific material. I also have index cards I have taped to the front of some boxes. This helps me change out the label if the box becomes re-purposed. I'm not a fan of writing directly on a box or bin mostly because I reuse boxes often for different purposes and don't want to scratch out a label or work to get the label off. It's apart of my work smarter not harder philosophy in life. 🙂

2. Clear Bins
Clear bins are my favorite. Clear bins on sale: extra BONUS! Almost all of my clear bins were found on sale. I have all sizes from shoe box side to large bins to hold bulky toys. They are a great quick way to see what is in a box and organize, especially craft supplies.
3. Shelving
Shelving is always great organization tool. The best set of shelves for us have been metal shelves that are adjustable. They are easy to break down for a move and fit nicely in to any kind of space. Shelves allow you to use our vertical space. Stacking up is a great space saver and very helpful to keep like items in on area of your home. Many of our shelves were free from people wanting to throw them away! A new coat of paint and a little tightening of some screws and we have had a lot of use out of someone else trash.
4. Baskets and Trays
Baskets and trays are a huge part of Montessori education. Over the course of only a couple years we have acquired all types and size baskets and trays and almost never use them all at one time. So what do you do with the baskets and trays you are not using? We stack them inside one another and store them in corners, on top of cabinets when space is limited, and under beds. We don't want to crush them or scratch them so we don't place any heavy objects on top of them. We actually have a large basket designated as the basket for baskets! We want our materials to last for a long time so we take care of their storage.

5. Themes
A great way to organize Montessori materials is by themes. We have many theme boxes for holidays or special events like Chinese New Year and our study on seeds. Just Montessori has a great curriculum using summer theme ideas.
6. Vertical Space
I am a huge fan of vertical space. The shelf above was a free shelf I saved from the trash made of heavy wood. It has no problem holding any weight I want to put on it. We had this setup in our one bedroom apartment as a part of our children's work space. The bottom shelves are practical life, but the top shelves including the very top is all storage almost to the ceiling. In small spaces is works really well to use your vertical space as much as you can. The use of clear bins and the vertical space made this a very awesome area in our home.

7. Secret Spaces
I know not everyone has huge closets they can dedicate to organize their Montessori materials so I wanted to let you know some of my secret spaces to store items. A great one is under the bed. We have clear bins that fit under the bed and are labeled with the content so when we look under the bed we can see what kind of materials are in the bins. Often books are great for under the bed because they can be to heavy for weak shelving. Another secret space is on top of the cabinets in the kitchen. We store our baskets on the top of the cabinets. They can be in decorative basket too to keep a clean look. Another secret space is to add a high shelf to the top of closets. A shelf above the hanging shelf about a foot or two below the ceiling can add a lot of storage space and with a stool is very easily accessible.
I love all of our Montessori materials and keeping them organized helps them last longer. Also, organizing helps busy Momma's find what they need quickly.
A couple of my favorite Montessori stores are:
Marie Mack's Montessori Store on Amazon – These are my hand picked favorite Montessori items divided by age and subject.
For Small Hands – High quality Montessori materials for your whole family.
Adena Montessori – I LOVE their 80% off page!
For more great ideas for the New Year check out:
Celebrating the New Year with Kid Friendly Fun – Enjoy some great New Year's books, then grab your video camera to interview your children's thoughts about the New Year.
New Years Eve with Kids – Enjoy these 25 family-friendly ideas for ringing in the new year with excited kids underfoot — making the evening memorable and fun for all ages.
How to throw a New Year's Eve Party for the kids  – Ideas for a New Year's Eve party with kids. Tons of fun suggestions.
Six Tools for Organizing Your Homeschool Space – Need some homeschool room organizing ideas for the New Year? Find them here along with a daily challenge to refresh your room for New Years.
Creating the Planner that Works for You! – Creating the Planner that Works for You takes a little thought and well… a little planning. Step one is defining what the term planner really means.
Seven Ways to Organize Montessori Materials – Fabulous ideas for organizing you Montessori materials or any home classroom!
Healthier Lunch Ideas for January – 31 healthy and delicious lunch ideas to see you through January, to create some healthier lunch time habits that will hopefully last throughout the year
More Great Ideas
Here are a couple other great posts I have on how we organize our Montessori activities in our home.
A tour of Our Classroom.
5 part series on Trillium Montessori on our Montessori Homeschool Setup in a Small Space.
Montessori Setup Series Roundup
Featured On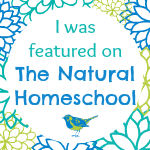 Visit Marie @ Child Led Life's profile on Pinterest.